Protective Waterproof Coatings & Membranes
High Build
Our most popular product, high build liquid rubber is one-size-fits-all. It's perfect for both small and large scale projects. It can be applied through a single spray system, brush or roller. Once opened a can of High Build can be re-sealed, keeping the product fresh and ready for use up to 12 months.
> Single component high build mastic product
> UV- resistant for use inside and outside.
> An excellent choice for sealing around vents and drains.
> Prevents rust
Project: Water Feature- Sanctuary Cove
With High Build being your best all purpose product, it's a great choice for a range of different projects. In this instance, High Build was the perfect solution to create and waterproof a residential water feature. As liquid rubber is a one coat waterproofing product, you can have a project done in a single afternoon or day and all you'll need is approximately one bucket or 4 kg of product.


Instant set
Instant set is used for even coverage over large areas. It is applied using a hand-held spray gun to provide a seamless finish which sets within a few hours. Instant set is best for medium to large scale projects and is sold in 120 kg or 1000 kg containers.
> Dual component fluid
> Best applied using an airless spray system
> Meets building codes that specify no open flame or hot liquids
Project: Retaining Wall Housing
Where other less durable waterproofing solutions fail, liquid rubber does the job and does it well. After the original waterproofing failed and the owner was forced to excavate to foundation level, Instant Set liquid rubber was used to waterproof the garage base of this property.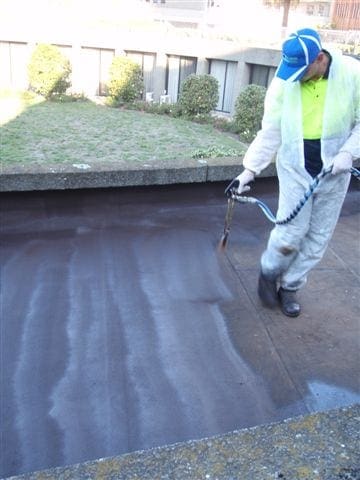 Trowel Grade
Trowel Grade is recommended in harsh environments, chemically exposed areas, temperature variations and high traffic areas, because it provides a flexible long wearing surface. Trowel Grade it does not become affected by sunlight, water or occasional chemical spills. It can be applied with a brush, roller, trowel or squeegee.
Trowel Grade is water based and environmentally safe, flexible and resists cracking, chipping and aging, with excellent freeze/thaw resistance.